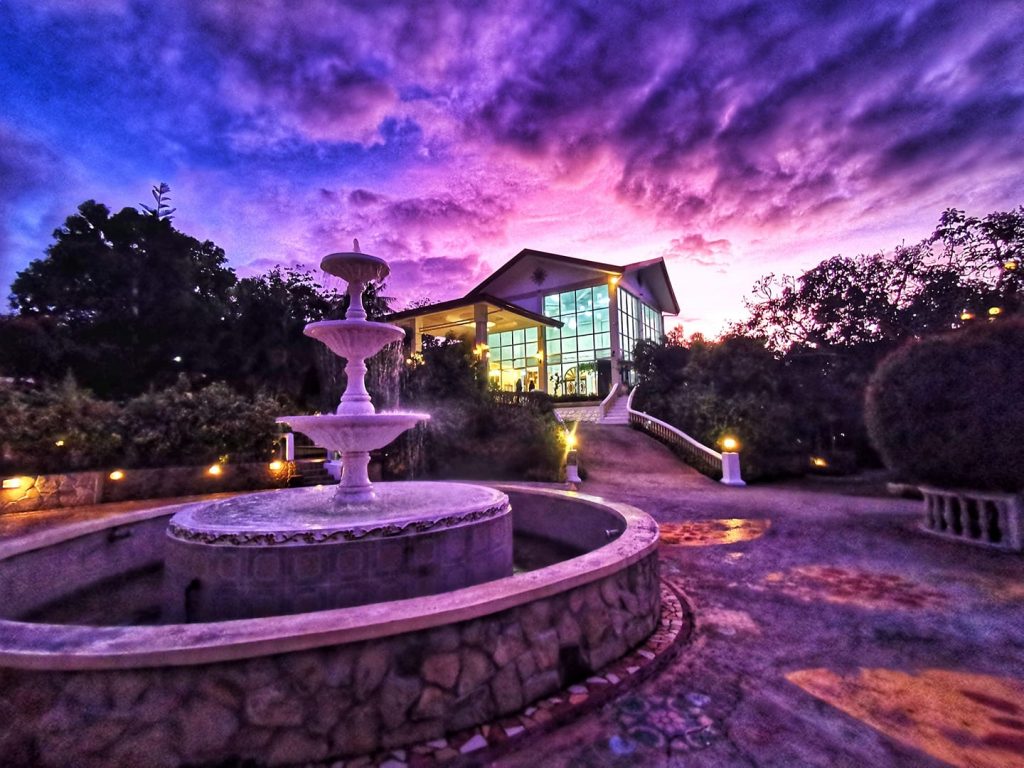 Mahogany Place Tagaytay
CLASSY VENUE
Mahogany Place Tagaytay is uniquely built to accommodate your specific needs as we offer three different options for your dream event:
The Gazebo
The Gazebo is perfect for those who want an intimate garden wedding ceremony or event. As the name suggests, the highlight of this garden is the gazebo which may be used for romantic wedding ceremonies. This garden can accommodate an estimated
200-400 guests.
The Tuscan Garden
A Tuscan inspired garden perfect for that dream garden wedding you've always wanted. The garden can be used for ceremonies, receptions and other outdoor events. A romantic elevated walkway is provided to give the entourage and the bride a grand entrance, giving the guests a perfect unobstructed view. This is our biggest garden, and it can accommodate an estimated 300-500 people.
The Grand Atrium
Overlooking the entire estate is The Grand Atrium, Mahogany Place Tagaytay's elevated indoor air-conditioned venue. This hall is surrounded by glass walls to give you a good view of both our gardens, and the entire lush green Tagaytay countryside. A perfect venue for your events all year round, The Grand Atrium can accommodate an estimated 300-500 guests (available Al Fresco or Air-Conditioned).
The diverse picturesque landscapes offer couples various options for engagement photo shoots and wedding portrait sessions.
ROMANTICALLY UNIQUE
Take a short walk around Mahogany Place Tagaytay and you will see that each different spot around the venue is actually part of a love story from different couples. Nothing is a better reminder of your love for one another than hearing other testimonies
from couples who have already begun their romantic journey together. Learning about the special beginnings of others
is a special walk you will remember, and one NO OTHER wedding venue can match.
A PERFECT LOCATION
Conveniently located at the heart of Tagaytay, Mahogany Place Tagaytay offers you and your guests the following benefits:
Ideal Weather
The refreshingly cool and invigorating temperatures of Tagaytay are the perfect climate to host a dream wedding, special occasion or corporate event.
Scenic Views
During your visit to Tagaytay, enjoy the breathtaking views of the Taal Lake and Volcano and then proceed to Mahogany Place Tagaytay where the lush gardens inside the complex await you.
Convenient Location
Only a 90 minute drive from Manila, Mahogany Place Tagaytay is just 2 minutes away from the famous Tagaytay Mahogany Market, and just 3 minutes away from Taal Vista Hotel.
Ample Parking
Plenty of spacious parking for your guests.
YOUR COMPLETE SATISFACTION
Mahogany Place Tagaytay is a family run estate committed to the
satisfaction of our customers. We understand that a wedding is one of the most important days of your life. No matter what kind of event it may be – from small parties to big corporate events and conferences - we want to make sure that you are worry-free so you can enjoy your memorable occasion. When you choose Mahogany Place Tagaytay you will interact with a management team that is professional, courteous and leaving you with a personal, friendly touch
Contact Information
9082 G.P. Enrile St. Purok 145, Tagaytay, 4120 Cavite